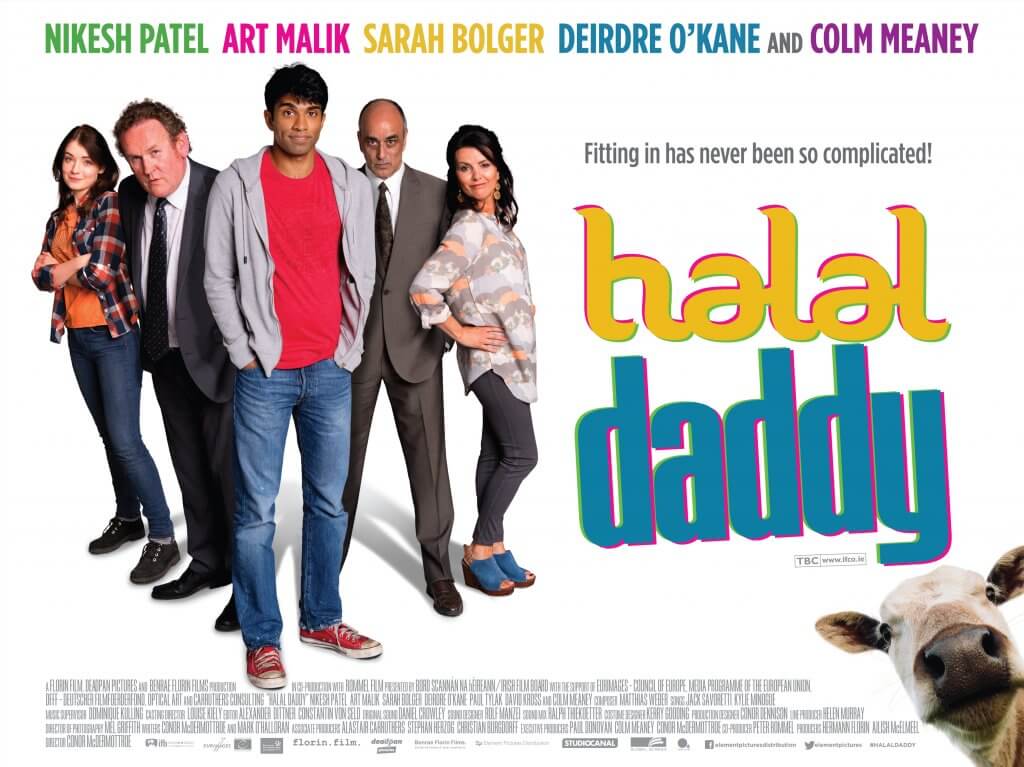 SYNOPSIS Ragh­dan Aziz, a young man of Bri­tish-Indian Mus­lim heri­ta­ge, is hap­py in his new home on the west coast of Ire­land. This beach-fron­ted retre­at is the per­fect geta­way from his con­trol­ling father. He has escaped the bur­den of his lega­cy and dis­co­ve­r­ed a new sen­se of com­mu­ni­ty. Living with his ado­ring aunt and uncle, Ragh­dan hangs out with his surf bud­dies Derek and Nevil­le and has map­ped out a future with girl­friend, Maeve Logan. On Raghdan's 21st bir­th­day, his father Amir arri­ves from Eng­land with the gift of a run-down meat fac­to­ry. How will Ragh­dan cope with this poi­son­ed cha­li­ce of a pre­sent – a care­er oppor­tu­ni­ty that he never wanted?
RELEASE DATE GERMANY 21. Juni 2018
WRITER / DIRECTOR Conor McDermottroe
WRITER Mark O'Halloran
DOP Mel Griffith
PRODUCER FLORIN FILM Her­mann Florin
PRODUCER DEADPAN PICTURES Ailish McElmeel
CAST Nikesh Patel, Sarah Bol­ger, Colm Mea­ney, Art Malik, David Kross, Jer­ry Iwu, Ste­phen Cromwell
HALAL DADDY is a fish out of water sto­ry about a loveab­le out­si­der, who must deci­de to embrace or defy his cul­tu­re in the name of fit­ting in.
HALAL DADDY is pro­du­ced by Her­mann Flo­rin for Flo­rin Film (Han­ni & Nan­ni, I'm off Then, Swan­song: The Sto­ry of Occi Byr­ne, Outri­ders) in Ger­ma­ny and Ailish McEl­meel for Dead­pan Pic­tures (Can't Cope, Won't Cope, Bur­ning Wis­hes, Wide Open Spaces) in Ire­land. The film is co-finan­ced by Eurimages and DFFF – Deut­scher Film­för­der­fonds with sup­port from the Irish Film Board/Bord Scan­nán na hÉi­reann. Ele­ment Pic­tures Dis­tri­bu­ti­on has Irish and UK rights. Ger­man thea­tri­cal rights are hand­led by Koch Media, while Tele­pool has tele­vi­si­on rights in Ger­ma­ny. Glo­bal Screen are hand­ling world sales.
PRODUCTION COMPANIES Flo­rin Film- & Fern­seh­pro­duk­ti­on GmbH, Ben­rae Flo­rin Film, Dead­pan Pic­tures Ltd, Rom­mel Film e.K.
FUNDED BY Irish Film Board, Eurimages, Ger­man Federal Filmboard
PARTNERS Post-Per­fect, Koch Media, Glo­bal Screen, Ele­ment Pic­tures, Tele­pool, Opti­cal Arts