Swansong – The story of Occi Byrne
Aus­tin 'Occi' Byrne's life begins when his mother brings him back to her vil­la­ge in Sli­go after she fails to have an abor­ti­on in Eng­land. Occi suf­fers trau­ma­tic bul­ly­ing at the hands of a local gang, but remains devo­ted to his incre­a­singly alco­ho­lic mother, con­vin­ced that his lost father will one day re-enter his life. When the men­tal asyl­um he's com­mit­ted to as an ado­lescent clo­ses down, he finds work on a traw­ler whe­re he cau­ses the death of a fel­low sailor. The mur­der goes undis­co­ve­r­ed, but worse awaits Occi when he returns home and learns the truth about his parentage.
Awards
Gal­way Film Fleadh Run­ner-Up: Best Irish Dra­ma
IFTA: Best Actor for Mar­tin McCann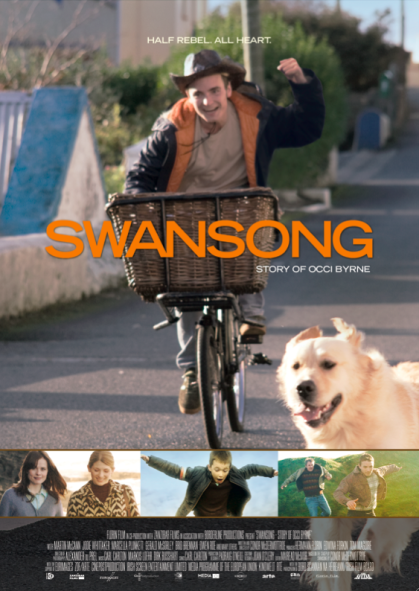 Release Date Germany
18. August 2011
Writer/ Director
Conor McDer­mot­t­roe
DOP
Alex­an­der du Prel
Composer
Carl Carl­ton
Producers
Her­mann Flo­rin, Edwi­na For­kin, Tom Maguire
Production Companies
Flo­rin Film & Fern­seh­pro­duk­ti­on GmbH, Zan­zi­bar Films
Cast
Mar­tin McCann, Jodie Whit­taker, Mar­cel­la Plunkett, Ger­ard McSor­ley, Brid Brenn­an, Owen Roe
Partners
Irish Film Board, RTE, Eurimages, ZDF/Arte, Kino­welt, Mis­sing Films
Bit­te haben Sie Ver­ständ­nis dafür, dass wir kei­ne unauf­ge­for­dert ein­ge­sand­ten Tex­te (Expo­sés, Tre­at­ments, Dreh­bü­cher) anneh­men, die nicht über einen uns bekann­ten Agen­ten an uns her­an­ge­tra­gen werden.
We do not read unso­li­ci­ted screen­plays unless sub­mit­ted via a reco­gnis­ed agent.
Gesellschaft für Feine Filme mbH Office Köln
Mach­a­bä­er Stra­ße 5
50668 Köln
+49 221 788 785 51
office@feinefilme.com
Gesellschaft für Feine Filme mbH Office Berlin
Ber­ner Str. 51
12205 Ber­lin
+49 30 88 66 99 70
office@feinefilme.com
Florin Film- und Fernsehproduktion GmbH & Co. KG
Ber­ner Str. 51
12205 Ber­lin
+49 30 88 66 99 70
office@feinefilme.com